KTK Takes Delivery of its First Stan Tug 4011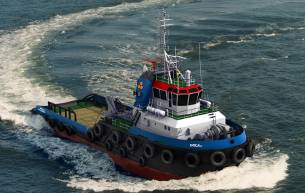 On Friday, April 2, 2010, R.J. Lopez Ramirez (Managing Director CPA/CPT) accepted on behalf of Kompania di Tou Korsou (KTK) the delivery of the Damen Stan Tug 4011, Orca VI, in the port of Tanjung Perak, Surabaya, Indonesia. The signing ceremony was witnessed by Alexis Daou (Chairman of the Supervisory Board of CPA/CPT). After the ceremony the vessel demonstrated some of her great capacities in the impressive port of Tanjung Perak.

With its 70 metric tons of bollard pull and excellent autonomy, the Orca VI will boost to KTK's capabilities in the international towing and salvage business. Its first destination will be Panama.