Results Reveal Stong Year for Aberdeen Harbor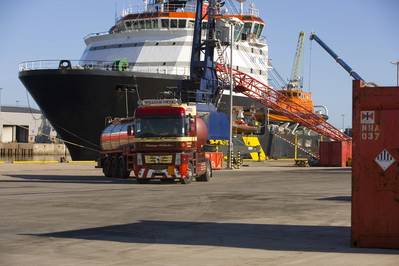 Aberdeen Harbor has reported its results for 2013, with vessel tonnage exceeding 28 million metric tons for the second year in succession, and nearly 4.9 million metric tons of cargo crossing the quayside.

Strong activity across the Harbor's customer base was reflected in its financial results for the year, with turnover up 1.1% to £27.6 million (2012: £27.3 million), delivering pretax profits of £9.6 million.

The port has continued to be buoyed by high levels of activity from the region's oil and gas industry and from its general cargo customers, and it experienced its busiest single week in September, when 690,907 metric tons of shipping entered the port.

Aberdeen Harbor Board chief executive, Colin Parker, said, "These results are a reflection of the strategic importance of the port to our many and varied customers, and emphasizes the important role the Harbor plays in the economy of the North East of Scotland.

Parker said that with the port operating at near capacity, it has become ever more apparent that additional facilities are required if Aberdeen Harbor is to continue to thrive. A recent independent report conducted by BiGGAR Economics, and commissioned by Scottish Enterprise, indicated that expanding the Harbor at Nigg Bay could be worth an extra £1 billion pounds per annum to the Scottish economy.

He added, "We have worked hard to modernize the port significantly and, in 2013, we completed the £33 Million redevelopment of Torry Quay. In light of the forecast for increased activity in years to come we need to look to other options if we are to continue to keep pace with demand. Activity levels in 2013 have strengthened our commitment to the Nigg Bay expansion concept and in 2014 we continue to work on finding the best way for this visionary project to be delivered."

Highlighting Aberdeen Harbor's importance as the main link to the Northern Isles, passenger numbers continue to increase, with well over 155,000 people passing through the Harbor over the period. The vast majority of these passengers were travelling on the Serco NorthLink ferry services to and from Orkney and Shetland. These services witnessed a five percent increase in passenger numbers compared to 2012. The Harbor also reported a record cruise season with 13 ships visiting the port during 2013.