Harding Accelerates Performance with the Cloud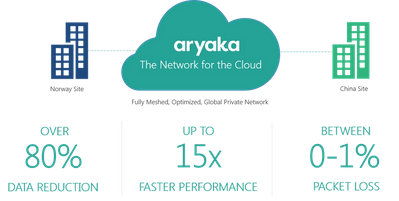 Cloud networking provider Aryaka announced that Harding Safety, a manufacturer and supplier of marine life-saving systems, has deployed Aryaka's software-defined, optimized network to achieve improved performance and connectivity between its sites in
Norway
and China.
Prior to deploying Aryaka, Harding Safety faced significant latency and packet loss issues between offices. The enterprise network thus acted as a barrier to collaboration, and business productivity was hit.
"As a company that manufactures and supplies life-saving systems, time is always of the essence for us. We evaluated multiple traditional network providers, who expected us to wait for several months before the network was up and running. We needed a proven solution operational quickly," said Eskil Moen, IT Manager at Harding Safety. "Aryaka was the only solution that worked, in terms of both agility and performance."
Harding Safety
was impressed with
Aryaka
's cloud delivery model that enabled its network to be set up in a matter of hours. Compared to its earlier network architecture, the company experienced up to 15x faster application performance, over 80 percent data reduction across all applications, 0-1 percent packet loss, end-to-end network visibility through the MyAryaka portal, single day deployment and 24x7 customer support.