US Warship LCS 10 Completes Acceptance Trials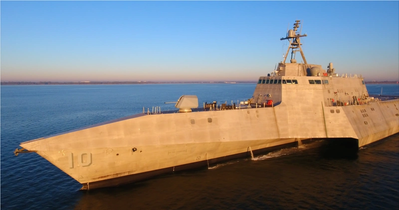 The fifth Independence-variant littoral combat ship built by Austal, Gabrielle Giffords (LCS 10), successfully completed acceptance trials, Nov. 18, in the Gulf of Mexico.

"I am proud of Austal's achievement of another major milestone in the LCS program." said Craig Perciavalle, President of Austal USA. "The steady increase in momentum on this program, with seven LCS currently under construction, has sharpened our focus on leveraging lessons learned from one ship to the next. Austal's talented workforce is constantly making improvements to our LCS production process which will position us well in the future."

This milestone achievement involved the execution of intense comprehensive tests by the Austal-led industry team while underway, which demonstrated to the Navy the successful operation of the ship's major systems and equipment. Acceptance trials are the last significant milestone before delivery of the ship, which is expected soon.

The LCS program is progressing at a steady pace at Austal USA with seven ships currently under construction. Omaha (LCS 12) and Manchester (LCS 14) are preparing for trials. Tulsa (LCS 16) will be christened and launched in early 2017. Final assembly is well underway on Charleston (LCS 18) and modules for Cincinnati (LCS 20) and Kansas City (LCS 22) are under construction in Austal's module manufacturing facility.