Acceptance Trials for Makin Island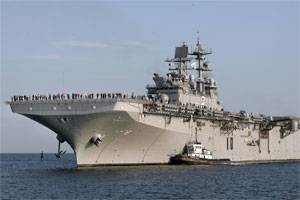 Northrop Grumman shipbuilders and U.S. Navy personnel joined forces aboard the amphibious assault ship Makin Island (LHD 8) to complete a successful U.S. Navy acceptance sea trial in the Gulf of Mexico. The ship is the eighth USS Wasp (LHD 1)-class amphibious assault ship being built by the company at its Gulf Coast facilities in Pascagoula, Miss.

During the acceptance trial, Makin Island performed all required sea trial evolutions for the U.S. Navy's Board of Inspection and Survey (INSURV). Makin Island proved its operational success with the first gas turbine/electric-powered propulsion system ever used on large deck amphibious assault ships. The gas turbine engines and electric drive, a change from previous steam-powered ships, will provide significant life-cycle savings in manpower and maintenance costs over the previous ships.

When LHD 8 arrived back in Pascagoula, four brooms were raised symbolizing a successful sea trial. "The four brooms being flown today represent the four teams who came together to make this ship successful: PMS 377, Northrop Grumman, Supervisor of Shipbuilding-Gulf Coast and Ship's force," said U.S. Navy Capt. Jeffery Riedel, program manager of Amphibious Warfare Programs for PEO Ships.

The Gulf Coast shipbuilding team met several milestones related to electrical cabling and the propulsion system set by Northrop Grumman in 2008 prior to acceptance trial. The Navy INSURV board was able to observe all electrical cabling installation throughout the ship and examine the integrated propulsion system. Both areas proved successful during the trial.

The Makin Island is 844 ft long and 106 ft wide and weighs 42,800 tons. Its 70,000 horsepower hybrid propulsion system will drive it to speeds in excess of 20 knots. As a multi-purpose amphibious assault ship, it is designed to transport and land a Marine Expeditionary Unit, a force of almost 2,000 Marines, ashore by helicopter, landing craft and amphibious assault vehicle. It will also have secondary missions of sea control and power projection by helicopter and fixed-wing vertical short take-off and landing aircraft; command and control; and mission support, including a hospital with six operating rooms.

Makin Island is scheduled for commissioning at its San Diego homeport in October 2009.

Northrop Grumman Corporation is a leading global security company whose 120,000 employees provide innovative systems, products and solutions in aerospace, electronics, information systems, shipbuilding and technical services to government and commercial customers worldwide.