Admiral's Wife Has Initials Set in US Warship's First Steel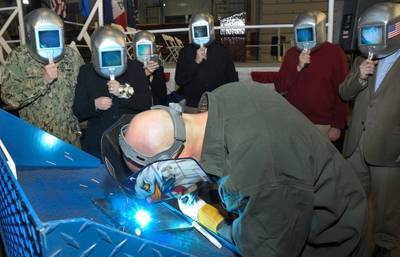 The Navy and Lockheed Martin, with Marinette Marine Corp., have held a keel laying ceremony for the future 'USS Sioux City' (LCS 11), the Navy's 11th littoral combat ship (LCS).


Ship sponsor Mary Winnefeld, wife of Vice Chairman of the Joint Chiefs of Staff, Admiral James "Sandy" Winnefeld, Jr., authenticated the keel by having her initials welded into a sheet of the ship's hull.

 "I'm both honored and delighted to be back in my home state of Wisconsin as the sponsor of Sioux City," said Mrs. Winnefeld. "It's been a real privilege to meet the great Americans who are building this versatile ship, and I thank them in advance for their quality work. I look forward to meeting her crew soon, being part of her family, and bringing our ship to life when she's commissioned." 


The keel-laying ceremony recognizes the first joining together of a ship's components. While modern shipbuilding processes allow advanced fabrication of individual modules, laying the keel represents the formal beginning in the life of a ship. LCS 11 is the first Navy ship to be named after Sioux City, Iowa.

"We are acknowledging an important milestone in the life of the newest Littoral Combat Ship, and we are also celebrating a monumental leap forward in the strength, capability, and flexibility of the Navy's future Surface Fleet. LCS 11 and the entire LCS Class are truly without precedent in our national defense arsenal -- breaking new ground in Navy acquisition, ship design, and warfighting technology," said Capt. Tom Anderson, LCS program manager.