Advanced IBS for Polar Research Vessel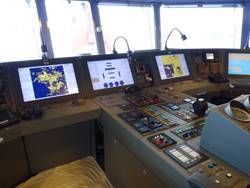 Raytheon Anschütz has recently completed the supply of their latest generation of Integrated Bridge System (IBS) to the "SA Agulhas II", a new polar research ship owned by the Republic of South Africa's Department of Environmental Affairs (DEA).
Sea trials including demanding ice trial tests in the Gulf of Bothnia were successfully passed during March 2012. The 134 meters long vessel was designed and built by the STX Finland shipyard of Rauma. The vessel is intended to conduct research activities and expeditions in the polar region, but is also designed to serve as an icebreaker, a passenger ship and a supply ship for the South African research centres in Antarctica.
Raytheon Anschütz has delivered an Integrated Bridge and Navigation System consisting of six wide-screen workstations for Radar, Chart Radar, ECDIS and Conning, as well as the top-of-the-range NautoPilot, a redundant gyro compass system Standard 22, a full package of navigation sensors, the navigation data management and the complete radio station according to GMDSS A4 for operation in the polar region. The navigation system complies with DNV's demanding NAUT-AW notation.
One of the IMO Radars provides Ice Radar functionality with advanced ice imaging capabilities, to assist the navigator in finding the optimal route through icy waters and reduce fuel consumption and the risk of hull damage. The bridge system also integrates a Dynamic Positioning (DP) System, which shares information such as waypoints with the navigation system to allow most precise operation within the ice fields. A helicopter console with a Chart Radar slave display and equipment for the SRTP Room complete the scope of supply.
The bridge and navigation equipment was installed by technicians from AT Marine Oy in conjunction with RH South Africa, both long-term certified service partner of Raytheon Anschütz.