Sulzer Joins SLSDC Advisory Board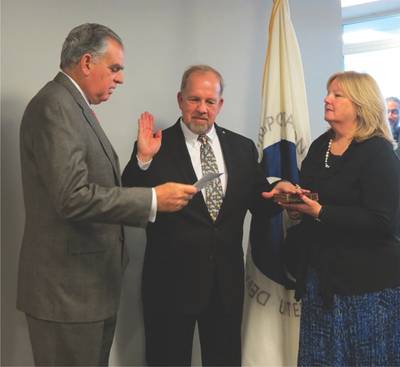 Dr. Arthur H. Sulzer, Captain USN (Ret), Sworn in as Member, Advisory Board of the Saint Lawrence Seaway Development Corporation.

Dr. Sulzer Background
Dr. Arthur H. Sulzer, Captain USN (ret), is President of Arthur H. Sulzer Associates, Inc., a position he has held since 2001. From 1974 to 2005, Captain Sulzer served in the United States Navy. His active duty assignments included Operation Iraqi Freedom and Operation Enduring Freedom, where he commanded the U.S. Naval Ship COMET. In 2003, Captain Sulzer joined several colleagues from Philadelphia to open Maritime Academy Charter High School. He was the Manager of Industrial Relations for Keystone Shipping Company from 1996 to 2003, and was Vice President of Operations for the Sea Line Company from 1987 to 1988. Captain Sulzer has taught at various institutions over the last 30 years including Great Lakes Maritime Academy, U.S. Merchant Marine Academy and New York Maritime College. He is a U.S. Coast Guard Licensed Ships Master and Third Assistant Engineer with extensive commercial sailing experience. Captain Sulzer earned a B.S. in Marine Transportation and an M.S. in Transportation Management & Maintenance from the State University of New York Maritime College. He received an M.B.A. in Finance from Hofstra University and Ed D. from the University of Pennsylvania.

Seaway Background
The Saint Lawrence Seaway Development Corporation (SLSDC) is a wholly- owned government corporation and operating administration of the U.S. Department of Transportation(DOT) responsible for the operation of the U.S. portion of the Saint Lawrence Seaway between Montreal and Lake Erie.

The SLSDC operates and maintains the U.S infrastructure and the waters of the St. Lawrence Seaway while performing trade development activities focused on economic development for the Great Lakes St. Lawrence Seaway System. Its mission is to serve the marine transportation industry by providing a safe, secure, reliable, efficient and competitive deep draft international waterway, in cooperation with the Canadian St. Lawrence Seaway Management Corporation (SLSMC) its Canadian counterpart.

Appointment Process
Dr. Sulzer was nominated by President Obama in July, 2012 to a 5 year position on the Saint Lawrence Seaway Advisory Board. He was confirmed by the U.S. Senate and sworn in in January 2013.