Aircraft Carrier USS Nimitz Enters Drydock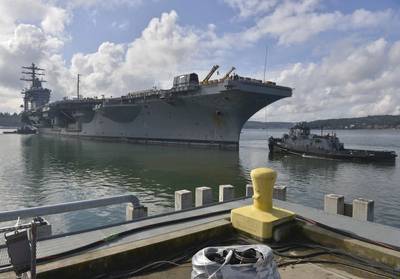 U.S. Navy aircraft carrier USS Nimitz (CVN 68) entered dry dock at the Puget Sound Naval Shipyard and Intermediate Maintenance Facility, Bremerton site, March 1, as part of the ship's scheduled 15-month docking planned incremental availability (DPIA) period following a six month deployment to the U.S. 5th and 7th Fleets.
Nimitz will receive upgrades and renovations to a variety of systems to include steering components, hull preservation, combat systems equipment, aircraft elevator doors, berthing areas and a new stern dock. This will be the ship's most recent upgrade since it's last maintenance period from January 2015 to October 2017.
"In all reality, this preservation period should be one of the last for Nimitz," said Brian Fazio, the project superintendent. "With new counter measure systems and refurbishments to multiple areas of the ship including antennas; close-in weapons systems; rudders, shafts and propellers; habitability areas; and overall hull preservation, Nimitz should expect a busy preservation period."
With a lengthy and high work tempo yard period ahead, the crew anticipates 15 ship's force teams to split up 315,000 manhours to get the ship back in fighting condition and back out to sea.
Nimitz is slated to return to sea May 2019 to perform sea trials in preparation for future operations.