North Sea Ferry Blaze: 7 Airlifted to Hospital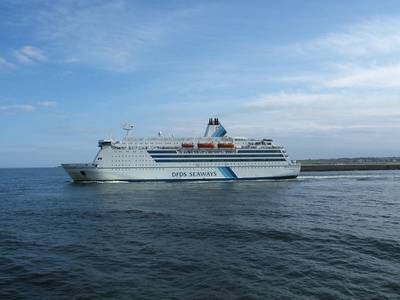 Six crew members and a passenger have been airlifted to hospital after a fire on board the DFDS ferry 'MS King Seaways', while en route from North Shields to Amsterdam, approximately 30 miles off Flamborough Head on the north east coast of England.

The UK Maritime & Coastguard Agency inform that the Humber Coastguard was contacted by the MS King Seaways, which had 946 passengers and 127 crew on board. They reported that they had a fire in one of the passenger accommodation blocks, but it had been brought under control and was now out.

In response, the Bridlington and Filey RNLI lifeboats were sent to the scene, along with search and rescue helicopters from RAF Leconfield and RAF Boulmer. Six crew members and one passenger were airlifted to Scarborough hospital suffering from what was understood to be the effects of smoke inhalation.

Bev Allen, Watch Manager at Humber Coastguard, said:
"We have been in close contact with the MS King Seaways this evening and sent resources to assist in the evacuation of those passengers and crew that were showing signs of smoke inhalation.

Later, according to BBC News, the ferry returned to North Shields and two men have been arrested: a 26-year-old on suspicion of arson and a 28-year-old on suspicion of affray.
Source: MCA/BBC News