THE Alliance to Operate 249 Ships in 2019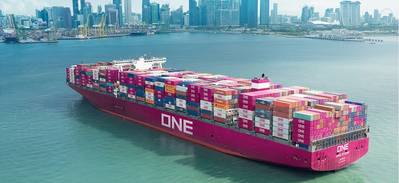 THE Alliance members Hapag-Lloyd, Ocean Network Express(ONE) and Yang Ming have published details of a rationalised revamped network for east-west trades effective from next year.

The forthcoming THE Alliance products of 29 services will cover 76 ports in Asia, Europe including Mediterranean, North and Central America, the Middle East, Red Sea and Indian Subcontinent, said a joint press release.

Deployment of over 249 efficient container ships with expanded capacity, offering improved service coverage, comprehensive port connections and rapid transit times.

The major enhancement of THE Alliance product includes a newly designed pendulum service to replace Far East Europe 1 service (FE1), Pacific Southwest 1 service (PS1) and Pacific Southwest 2 service (PS2), and a new Pacific Northwest 4 service (PN4), offering a wider range of direct calls across North America West Coast, Europe and Asia.

The launch of PN4 service will provide more efficient and comprehensive links between Asia and PNW. Moving forward, a necessary capacity upgrade to the existing Asia-Europe network and overall optimized port-pair connections will be implemented to accommodate customers' needs of greater reliability and stability in service quality.

The strengthened service network is scheduled to launch in 2019, subject to necessary regulatory approvals. With the upgraded service network, THE Alliance is expected to create more excellent, reliable, efficient, and effective services in the East/West lanes.

The partners of THE Alliance will keep the market informed about further steps and the final, more precise service rotations and terminal selections, said the release.