NZ America's Cup Entrant Hitches Maersk Ride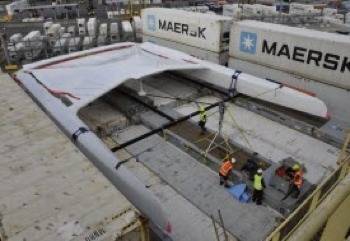 Emirates Team New Zealand's 'AC72' catamaran is on its way to San Francisco to compete in the America's Cup regatta, courtesy of sponsor Maersk Line.
The Port of Auckland witnessed a spectacular sight recently as the massive 72-foot multihull yacht, named 'New Zealand', was hoisted out of the water and placed safely onto the deck of the Maersk Jubail. 


It's break bulk cargo to Maersk Line, but to Emirates Team New Zealand (ETNZ), twice winner of the Americas Cup, it's the start of their journey to win back the coveted trophy. 

The team's Auckland base, home for the past three years, has been packed into more than 70 40' containers and will be shipped to San Francisco, courtesy of Maersk Line. 

31 containers are already on the water, the balance will be leaving over the next month. The floating campaign, which includes a 12-metre chase boat, two 14-metre tenders, a hydraulic travel lift, three 40-metre-long masts and, of course, ETNZ's two AC72 catamarans (second one is a back-up), is expected to be up and running by 23 May, allowing ETNZ five weeks testing and practice in the treacherous waters of San Francisco Bay. 

ETNZ boss Grant Dalton says Maersk is carrying everything ETNZ needs to set up a full working boatyard, from office furniture to a self-contained engineering workshop. 


Facts about the AC72:

• The AC72 is 22m long and the wing sail is 13m high (bigger than a jumbo jet wing)
• The AC72 is capable of reaching speeds of up to 50 knots, about 92km/h
• The race crew will need to wear crash helmets and safety gear due to the high speeds
• More than 50,000 design hours have gone into the project.
• A 50m crane is required to launch the boat into the water, with the process taking around two hours.