USS Iwo Jima Amphibious Group Deploys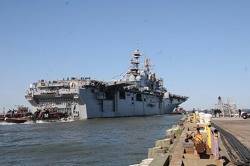 USS Iwo Jima departs Norfolk to head up amphibious force in area of operations of 5th and 6th Fleets
More than 4,000 Sailors and Marines from the Iwo Jima Amphibious Ready Group (IWO ARG) and 24th Marine Expeditionary Unit (24 MEU) departed for deployment from Norfolk and Camp Lejeune, N.C.

The deployment is to support Maritime Security Operations, provide crisis response capability, increase theater security cooperation and provide forward naval presence in the 5th and 6th Fleet areas of operation.

The IWO JIMA ARG/24 MEU is comprised of Amphibious Squadron (PHIBRON) 8, multipurpose amphibious assault ship USS Iwo Jima (LHD 7), amphibious transport dock USS New York (LPD 21), and amphibious dock landing ship USS Gunston Hall (LSD 44); Battalion Landing Team, 1st Battalion, 2nd Marine Regiment (BLT 1/2); Aviation Combat Element, Marine Medium Tiltrotor Squadron 261 (Reinforced); Logistics Combat Element, Combat Logistics Battalion 24.

In preparation for deployment, the IWO JIMA ARG/24 MEU underwent a six-month work up cycle that included successful completion of an Amphibious Squadron/Marine expeditionary unit integration (PMINT), a composite training unit exercise (COMPTUEX) and a certification exercise (CERTEX).

"Due to around-the-clock training and an aggressive work up schedule, we have no doubt in our minds that we are ready and capable for the missions ahead," said Commander PHIBRON 8, Capt. Mark H. Scovill.

The IWO ARG/24 MEU provides the combatant commander a versatile sea-based force that can be tailored to a variety of missions, including quick reaction crisis response options in maritime, littoral and inland environments in support of U.S. policy.