Global LNG Analytics Services Announced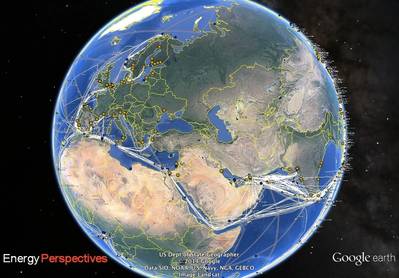 TerraMar Networks and Energy Perspectives join forces to offer ground-breaking LNG analytics services.

Global GPS asset tracking provider, TerraMar Networks Limited has announced that it has entered into an agreement with Energy Perspectives, expert consultancy in natural gas based in Norway, to collaborate on an innovative global analytics services for the LNG (liquefied natural gas) market.

iGIS/LNG is the first, combined real time tracking and business application for natural gas producers, traders, importers, ship owners and financiers, and is the result of a combination of TerraMar's AIS data and Energy Perspective's Business Intelligence systems.

The LNG market is changing rapidly, underpinned both by new global sources of supply and by growth in demand for this attractive energy source. For operators and traders involved in this increasingly volatile market, high quality and immediate information is essential.

These capabilities have traditionally required several applications and time-consuming manual work. However, , the iGIS/LNG service (designed by natural gas professionals) will give end users a global insight into all data concerning current and planned projects and vessels, plus powerful gas market analytics and reporting in a uniquely comprehensive system.

iGIS/LNG's innovative features include:
Real-time graphics and reports for specific markets and needs, selected from thousands of locations and data of interest, viewed using any web browser.
Global, "moving earth" display of all LNG vessels, with sailing projected in full animation, and drilldown to sailing history.
Deep business intelligence and real-time analytics to identify supply potential at any point in the global system, identifying each vessel by days to market.
URL links to national and industry resources, terminal and TSO operational websites, terminal and vessel owners and operators.
Specialty models for natural gas and LNG dispatching and operational scheduling, valuation, optimal routing and market flows.
Gwyn Roberts, managing director at TerraMar Networks, said: "This is an exciting partnership for both TerraMar Networks and for the LNG sector. It is a great example of "big data" innovation, combining our robust AIS data platform with the sector expertise and data interpretation algorithms of Energy Perspectives. We invested in a high capacity, high availability AIS data repository and made it available through standard web service protocols with exactly this kind of innovation in mind."

Kjell Eikland, managing director of Energy Perspectives, said: "We are very pleased to partner with TerraMar Networks to enable us to deliver high quality global real-time analytics for LNG that leading companies now need. TerraMar's professionalism and dedication allows us to deliver the reliable data and quality analytics that advanced companies rely on. The strong platform that is now in place allows us to continue to deliver exciting new and innovative services."