Angelicoussis Receives Honorary Doctorate from Webb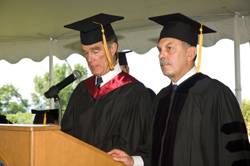 In June, John Angelicoussis attended the Graduation Ceremony at Webb Institute in Glen Cove on Long Island, New York. There he was honored with a Doctorate Degree in Commercial Sciences based on his lifelong achievements in the field of international shipping. Following this he gave the commencement address to the Class of 2010.
John Angelicoussis spoke to the Class of 2010 about how the Angelicoussis Shipping Group Limited, one of the largest privately held shipping companies in the world today, was founded some 60 years ago by his father, Antonis Angelicoussis. Antonis Angelicoussis was a radio operator who had a dream to be a ship owner, and from humble beginnings started the company that his son John runs today. In 1989, Antonis Angelicoussis passed away and John assumed the Chairmanship of the company which at that time had 40 ships, mostly bulk carriers. John Angelicoussis greatly expanded the company, building a fleet of tankers and most recently gas carriers while upgrading the bulk carrier fleet. By describing the creation and subsequent growth of the company, Dr. Angelicoussis challenged the Class of 2010 to dream big and work hard to pursue those dreams. Further, he noted that shipping has truly been a beneficiary of globalization and is a field that will continue to see growth in the future. However, he cautioned that Europe and the US are together no longer the center of economic might in the world – that center was gradually shifting to the east as China and India become strong global players. Therefore, he recommended that the graduates today be prepared to pursue opportunities wherever they may lie – particularly opportunities in Asia.