Cummins Announces High HP Dual Fuel Product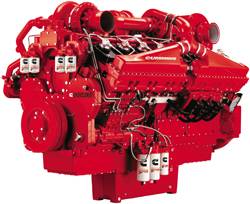 Oil And Gas Dual Fuel Products In Production Midyear 2013.
Cummins Inc. announced today its plans to produce dual fuel engines from 800 hp to 3500 hp (597-2610 kW) for high-horsepower markets. The first in the product portfolio, QSK50 Tier 2 for oil and gas well servicing applications, will begin production in midyear 2013, with other QSK Series engines to follow, including engines capable of meeting upcoming EPA Tier 4 Final emissions regulations. Cummins high-horsepower dual fuel engines will operate with common integrated controls, making a seamless transition from diesel fuel to dual fuel operation. By default, an engine will run on diesel fuel until the operator selects the option on the control panel to run the engine on a blend of diesel and natural gas fuel. The engine will switch to dual fuel mode and automatically select the substitution rate for the operator.
"This technology investment by Cummins further demonstrates our position as a technology leader in the high-horsepower markets. Cummins is committed to delivering reliable, high-efficiency products capable of meeting emissions regulations and operating wherever our customers are," said Mark Levett, Vice President – High-Horsepower Engine Business. In traditional operating conditions, a maximum substitution rate of diesel fuel with natural gas of 70 percent can be expected, with average substitution rates of greater than 50 percent, depending on application and duty cycle. The Cummins dual fuel solution will be applicable to both new QSK family engines and a retrofit on existing QSK family engines in the field today. Cummins global distribution network will handle up-fit, commissioning and warranty on dual fuel solution engines.
The rapid expansion and abundance of natural gas in many areas of the world has driven a dramatic cost advantage of natural gas over diesel fuel. The ability to substitute diesel fuel with natural gas drives down the total cost of ownership of equipment. For oil and gas customers, the potential for return on investment is great, with the ability to harness natural gas from the wellhead and run in equipment on-site, with low overhead cost.
"In the oil and gas industry, variable-speed pressure pumping applications traditionally consume a lot of fuel due to the rugged duty cycle of the application. These customers can expect to see significant fuel savings from the Cummins dual fuel solution and will typically see a return on capital investment within the first six months of operation," said Erik Drewry, Director – Oil and Gas Business. Additional details on the solution and product introduction timelines by market will be shared in the coming months.