Marlink Delivers Fleet Xpress on Antarctic Support Vessel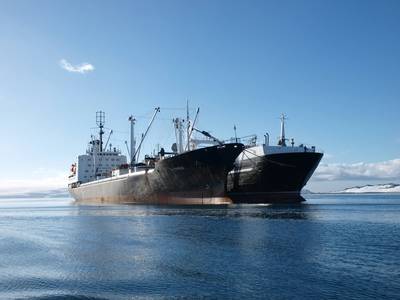 Marlink said it has migrated Aker BioMarine's Antarctic krill harvester fleet support ship, La Manche, to Inmarsat's Fleet Xpress service. The system provides a boost to crew communication facilities on board as well as enables vessels to benefit from improved business intelligence and remote access to the vessel's IT network. The service uses the XChange Universal Remote Access (URA) solution, one of Marlink's many Value Added Services available on Fleet Xpress.
"Fleet Xpress has transformed our communication capabilities aboard La Manche. Reports from crew and captain are positive, with speed and availability highlighted as the biggest improvements," said David Cheyette, IT Consultant for Aker BioMarine. "Our experience with Sealink C-band VSAT on the Krill harvester fleet made Marlink the obvious partner for the La Manche upgrade and the Marlink team has once again provided a high quality of service from installation through to daily operations. Having access to Marlink's portfolio of Value Added Services over Fleet Xpress was also attractive for us and has already paid dividends, especially in the context of La Manche's IT network management."
Aker BioMarine is the only krill supplier that controls the entire harvesting and production process and La Manche is a vital component of the company's supply chain, which stretches from krill harvesting in
Antarctic waters
through a logistics hub in Montevideo to its krill oil manufacturing facility in Houston. La Manche, a 172-meter reefer with accommodation for up to 68 crew, services Aker BioMarine's two krill harvesting vessels, Saga Sea and Antarctic Sea, which operate year-round in the Antarctic. As a support ship, La Manche's core duties are to transfer crew and supplies and deliver the krill meal produced on the harvester vessels back to shore.
Fleet Xpress satisfies coverage demand over the La Manche's operational area in the Southern Ocean. As Marlink is already Aker BioMarine's existing supplier of C-band VSAT services for Saga Sea and Antarctic Sea, Aker BioMarine turned to Marlink to improve communication facilities aboard La Manche, with Inmarsat's next generation high-speed service to complement Marlink's own Value Added Services.
The installation is based on a one meter Ka-band antenna with full integration to the XChange centralized IT and
communications management system
. XChange has already simplified administration of Aker BioMarine crew Internet and voice calling accounts, which can be set up per crew member with pre- and post-paid options, in addition to providing management functions for quotas and network access. XChange is also the foundation of the unique Universal Remote Access (URA) solution, which Aker BioMarine uses to maintain La Manche's training network and servers, ensuring higher uptime for the crew training facilities on board. URA is also used for general IT network troubleshooting and software updates, a capability that has already helped to reduce IT management related time and costs.
Marlink has earlier achieved full integration with the Fleet Xpress network by establishing interconnection at all three 'meet me' points; one for each of the Global Xpress regions. This means Fleet Xpress users can access a range of Marlink Value Added Services including the Portal 360 online management system in addition to a unique set of Marlink developed network reporting tools. Marlink can proactively report fully on the status of Fleet Xpress voice and data services in addition to showing why a vessel is not operating on the primary GX bearer. By accessing reports including traffic statistics, real-time position of vessels, sailing routes, SNR stats, and networks and satellite beams currently being used, Marlink offers more pro-active support ensuring higher uptime and a faster response for troubleshooting. With on-going development of the SoftNSD / DBP platform, diagnostics and reporting will continue to advance, benefitting from Marlink's unique understanding of the Fleet Xpress solution.
"Fleet Xpress is an essential part of our multi-band portfolio, providing more choice for our customers to use the services that fit their operational requirements best," said Tore Morten Olsen, President Maritime, Marlink. "Integrating our Value Added Services and the XChange system with Fleet Xpress allows us to offer even more flexibility in our already extensive technology and frequency agnostic portfolio."
"Fleet Xpress is more than just a satcoms service," comments Ronald Spithout, President, Inmarsat Maritime. "Fleet Xpress not only enables operators and owners to gain valuable intelligence about the performance of their vessel, but it also meets the connectivity needs of the modern seafarer, offering better communications with the outside world to enhance well-being, performance and crew retention rates."