ABB to Power the 'Anti-cruise Ship'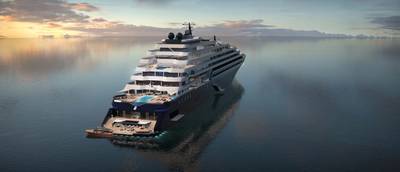 ABB will provide the power and propulsion for the first in a series of vessels that mark Ritz Carlton's first foray into the maritime sector. The 190-meter long vessel has been dubbed the "anti-cruise ship" because it can accommodate just 298 passengers and is aimed at providing a more bespoke service than larger cruise ships.
ABB's solutions will
optimize energy efficiency
and allow the vessel to be remotely monitored from shore. Two Azipod D propulsors will enable the ship to maneuver efficiently and effectively while the Remote Diagnostics Service will empower a smarter approach to maintenance.
Juha Koskela, Managing Director of ABB's Marine and Ports Business, said, "We have been serving the cruise industry for three decades. Our efforts during the last 10 years in building up a solid global network to serve the increasing number of customers have been fruitful. Now new partners wish to make use of this experience. Whether it is the largest cruise ships in the world or these luxurious mega-yachts, we serve our customers with consistent quality globally."
The Azipod D is suited for smaller vessels because of its lower installed power. Azipod propulsion has gained its position in the passenger segment by making it possible to do away with shaft line systems, with the electric motor installed in a pod outside the hull, freeing up space for more cabins. The system also produces lower levels of vibration, benefiting the passenger experience. The thrusters' ability to turn in all directions increases ships access to ports without tug assistance, with the vessel in this case operating in New England,
Caribbean
and Mediterranean waters.
Captain Erik Bredhe, Marine Operations Director at The Ritz-Carlton Yacht Collection, said, "When we set out to design and build an ultra-luxury cruise yacht for the Ritz Carlton brand, we wanted to select the critical systems and equipment from among the most experienced suppliers known for their reliability and quality. The obvious choice for power and propulsion was ABB, and we expect them to meet and exceed our quality standards as partners for many years."
The Azipod units, along with all elements included in the ABB medium voltage power plant, will be installed with sensors to produce data that can be tracked from shore by both the customer and from the ABB Ability Collaborative Operations Centers. This will allow for a more informed approach during routine maintenance.
The commissioning process will be simplified by the shipyard's early decision to choose ABB as the supplier of the automation for the vessel. With the ABB Ability System 800xA, the crew have access to a fully integrated ship where all systems and equipment work seamlessly together, operated from an intuitive, single-screen access to all information needed to operate the vessel more effectively and safely.
The ship will be built at H.J. Astilleros Barreras (HJB) in Spain and is scheduled to set sail in 2019. Alfonso López Loureiro, Sales Director at HJB, said, "This is a very exciting concept and we are delighted to have ABB as partners, which has a proven record of delivering systems on many similar, and larger passenger vessels."