APM Implements ConQuip in 38 Operations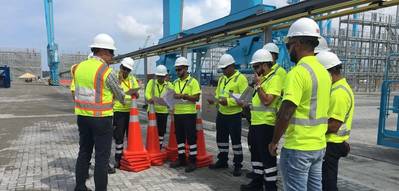 APM Terminals, the international container terminal operating company headquartered in The Hague, claimed that one year since the implementation of its new global operator training program known as ConQuip, and the approach is paying off.

The company's goal is to implement standardized operator training across 38 Global Operations, said a press release.

This approach allows APM Terminals to share and implement best practice across the organization, reduce costs, and enable smoother operational start-up for new Terminals. One year since the introduction ConQuip and the company is seeing it contribute to improvements in Port Moves Per Hour (PMPH), fewer accidents, and a reduction in skills variance between employees.

Launched as a pilot at APM Terminals Tangier Med Port 2 in August 2018, ConQuip focusses on yard and vessel heavy equipment operations, such as ship to shore and mobile harbour cranes, reach stackers, straddle carriers and rubber tyre gantry. The basis for the training is to initially identify skills gaps.

Skills gaps are identified using paper-based assessments, on-the-job evaluations and data analysis, carried out on a scheduled and ad hoc basis.

"For example, a ConQuip trainer may notice that a reach stacker operator isn't consistently picking a container in a single move," explains Fatima Alvarado, People & Functional Training at APM Terminals. "In such an instance they will be invited to a training."

In a significant change to the company's previous approach to training, all training is now carried out by specially selected in-house trainers at each terminal.

In 2018, APM Terminals selected Maersk Training as a learning partner to deploy its operational standards via a Train the Trainer and Effective Training methodology.

Based on APM Terminals standards, Maersk Training have developed the training materials and translated into the local languages. Up to 10 experienced operators (master trainers) at a terminal are trained by a global training team.

Standardizing skills across APM Terminals not only ensures that operators are using the best and latest functional skills within the terminal, but also that those skills are transferable between terminals. This provides added labor force flexibility and can ensure that new terminals can be brought up to the same level of operational excellence in the shortest time.