Argentinean Sub Chased by Helicopter before Vanishing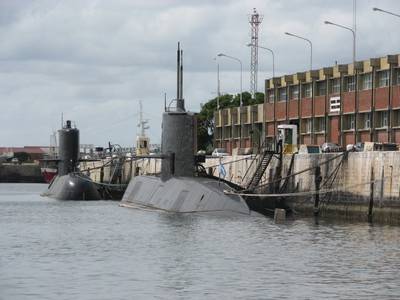 A family member of one of the sailors aboard missing Argentinean submarine ARA San Juan is claiming the vessel was chased by a British helicopter and a Chilean ship before it vanished in mid-November.
Jessica Medina, the sister of one of the 44 submariners aboard the missing San Juan, told an Argentinean newspaper that she received mysterious WhatsApp messages from her brother Roberto Daniel prior to the sub's disappearance that claimed San Juan was being chased while sailing near the
Falkland Islands
.
"On Monday an English helicopter was looking for us, and yesterday the Chileans, there has been a lot going on," the missing sailor told his sister in a WhatsApp message.
Argentinean military officials and the
Royal Navy have
both blasted the claims as completely false.
ARA San Juan was last seen on November 15, in the San Jorge Gulf, a few hundred kilometers off the coast of
southern Argentina
. According to the Argentinean Navy, the sub's captain reported water had entered the snorkel and caused one of the vessel's batteries to short circuit, but the problem was contained. An explosion was detected several hours later near the time and place where the San Juan was last heard from.