Cruise Ship Arrivals Set New Shetland Island Port Record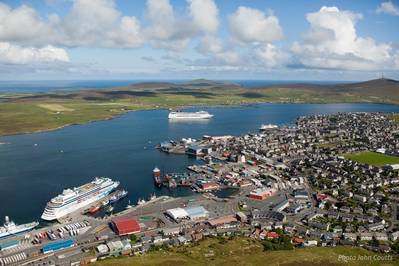 Lerwick Harbour, Shetland Islands, Scotland, logs best cruise season yet, with number of vessels visiting setting four new records.

The records set in the 2012 season, which began in April and ended, Saturday 22 September, were
37,572 passengers, topping the previous highest figure of 30,843 in 2010.
52 cruise ships, beating last year's record of 50.
1,531,097 gross tonnes of shipping, up on the previous record of 1,220,455 gross tonnes in 2010.


3,105 passengers on a single vessel at Lerwick - Costa Pacifica, on 2 July, passing her previous record of 3,007 in June, 2011.
Costa Pacifica also retained her record as the largest cruise ship (114,288 gross tonnes) at Lerwick, with two calls this year following a maiden visit in 2011.

This season's final call on Saturday was by Fram as part of an eight-day North Atlantic Islands Cruise, from Reykjavik, Iceland, to Bergen, Norway.

Victor Sandison, Lerwick Port Authority Deputy Chief Executive, said: "The record-breaking season is further evidence that the Authority's investment in facilities and the commitment in Shetland to promoting the islands' many attractions and making passengers welcome are generating the right results and sustained success.
"The forward bookings - with 43 already for next year, 17 for 2014 and a handful for 2015 – are another encouraging vote of confidence in everything that the port and Shetland can offer the cruise industry and a great building block for the future."

The 2013 season is already set to break at least one record, with scheduled vessels adding up to 1,617,065 gross tonnes, reflecting the trend in recent years of larger cruise ships calling at the sheltered, deep-water port.