USS Little Rock Arrives in Mayport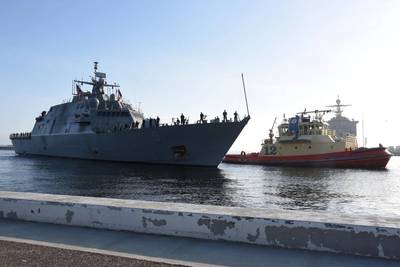 The U.S. Navy's newest Freedom-variant littoral combat ship has finally reached its homeport in Mayport, Fla. after a winter trapped in the icy north.

Built at the Marinette Marine Corporation shipyard in Marinette, Wisc., the USS Little Rock (LCS 9) was scheduled to sail for its Florida homeport following a December 2017 commissioning ceremony in Buffalo, N.Y., but worse-than-expected ice conditions in the St. Lawrence Seaway delayed the homeward voyage and forced the ship to wait out the rest of the winter in Montreal.

The $440 million warship resumed its journey as soon as the weather cleared, stopping in Halifax, N.S. and Virginia Beach, Va. before completing its three-and-a-half-month homecoming voyage in Mayport on Thursday morning.

Families, friends and shipmates greeted the ship and crew as they moored for the first time in Mayport, where Little Rock blasted the song "Back in Black" in honor of the ship's motto, "Back With a Vengeance."

"Little Rock is a fast, lethal ship ready to go out and fulfill her mission," said Cmdr. Todd Peters, the ship's commanding officer. "The crew worked relentlessly to bring her home and make their way 'Back With a Vengeance.' We are ready to make final preparations to deploy and carry our motto into history."

The 389-foot USS Little Rock is the Navy's fifth freedom-variant LCS. Another nine freedom-variant vessels are in various stages of construction or on order.

According to the Navy, the fast, shallow draft vessel has a modular design capable of implementing a variety of mission packages for operations in shallow coastal regions and the open ocean.