AMVER Ship Assists in Deep Sea Medevac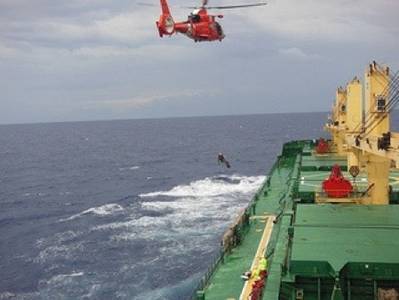 A Coast Guard Air Station Borinquen team safely hoisted a 61-year-old man suffering from severe dehydration from the Automated Mutual Assistance Vessel Rescue System (AMVER) bulk carrier 'AS Vincentia' some 400 nm from shore. The Liberian-flagged ship had earlier taken the patient off the sailing yacht 'Enzo'.

The Cutter Vigorous rendezvoused with AS Vincentia 200 nautical miles north of Puerto Rico where the crew of the MH-65 helicopter safely hoisted the Canadian national off the AS Vincentia and took him to the cutter Vigorous to receive medical attention.

Due to significant distance off-shore and lack of any nearby rescue assets, Coast Guard coordinators first communicated with nearby Bahamian-flagged 518-foot motor vessel Chiquita Scandinavia through AMVER to provide assistance. Upon arriving on scene, the Chiquita Scandinavia reported rough and hazardous sea conditions and were unable to carry out the evaccuation. Subsequently the AS Vincentia arrived on scene and succeeded.

Pictured: A rescue swimmer from Coast Guard Air Station Borinquen, Puerto Rico, is lowered aboard the bulk carrier AS Vincentia to provide medical attention.