Great Lakes Ore Trade Dips in August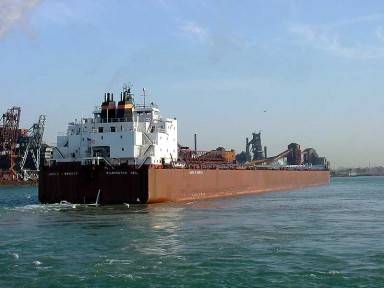 Shipments of iron ore on the
Great Lakes
and St. Lawrence Seaway totaled 5.9 million tons in August, a decrease of 19 percent compared to a year ago, according to the Lake Carriers' Association (LCA).
LCA said the ore trade was suppressed by continued high steel imports levels, as well as three of the largest U.S.-flag lakers out of service for repair work for the majority of the month.
Shipments from U.S. ports decreased 26.5 percent compared to a year ago, down to a total 5 million tons, indicating further impact of the absence of the three 1,000-footers, which boast a combined per-trip capacity of more than 200,000 tons.
One of the vessels sailed again on August 28, while the other two vessels are expected to return to service by September 20.
Loadings at Canadian ports in the Seaway, meanwhile, nearly doubled to 921,000 tons.
Through August, the Lakes/Seaway ore trade stands at 33.5 million tons, a near carbon copy of a year ago, and a slight decrease compared to the long-term average, LCA said.