Austal Water Taxis Sea Trials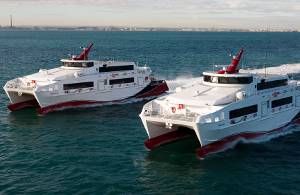 The Republic of Trinidad and Tobago's four 134.5 ft Austal-designed and built high speed passenger ferries recently completed sea trials. Designed to carry 405 passengers at speeds of more than 37 knots, the aluminum vessels are intended to help reduce road congestion in Trinidad and Tobago by establishing a water taxi service between San Fernando and Port of Spain in southwest Trinidad.

All four ferries achieved a trial speed above the contract requirement during recent sea trials. Austal Chief Operating Officer Andrew Bellamy said the achievement was testament to the company's proven design and construction techniques.

"Austal continually seeks improvements in hull efficiency to achieve an optimum balance between passenger comfort, speed and efficiency over the required loading conditions and maneuverability."

"These vessels demonstrate our commitment to this, and to ensuring our customers are delivered a product that either meets or exceeds their expectations."

Austal's design is based on its 134.5-ft catamaran platform, two of which have been successfully operating in Norway with leading operator OVDS since 2003.

Passenger seating onboard each vessel is split over two levels, with the main passenger deck featuring four passenger entry points, a central kiosk and dedicated baggage compartment and bike racks. The vessels are powered by four MTU 16V2000 M72 engines driving Kamewa waterjets and are fitted with Austal Ride Control to ensure passenger comfort.

When fully operational the water taxi service is expected to facilitate the transport over 7,500 passengers in a normal working day and will be integrated with other transport systems. With a combined capacity of 1620 passengers, the four Austal high speed catamarans will reduce travel times between North and South Trinidad by almost one quarter. The vessels are being constructed at Austal's Australian facilities and will be transported to Trinidad and Tobago via heavy lift ships in coming months.