Third Austal-built LCS Delivered to the US Navy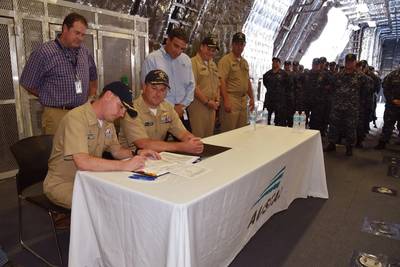 Shipbuilder Austal reports it has delivered the third littoral combat ship (LCS) built at its Mobile, Ala. shipyard to the U.S. Navy on August 11. This milestone marks the first LCS ship built by Austal as the prime contractor as part of a 10-ship, $3.5 billion block-buy contract.
"To deliver our first LCS as prime contractor is a major milestone for our company," Perciavalle said. "I can't express enough how proud I am to be part of this team of amazing men and women who made this accomplishment possible through their hard work and dedication. This truly is an extraordinary ship built by extraordinary people."
After the delivery of Jackson, six Independence-variant LCS remain under construction at Austal's
Alabama shipyard
. Montgomery (LCS 8) is being prepared for trials later this year. Gabrielle Giffords (LCS 10) was recently christened, while Omaha (LCS 12) is being prepared for launch in the fall, and assembly is underway on Manchester (LCS 14). Modules for Tulsa (LCS 16) and Charleston (LCS 18) are under construction in Austal's module manufacturing facility and construction of Cincinnati (LCS 20) is slated to begin later this year.
"The program continues to mature very well here, and each ship continues to improve as lessons-learned are incorporated real time," Perciavalle said. "The momentum gained on this program is great to see and will position us well in the future."
In addition to the LCS program, Austal is also under contract to build 10 joint high speed vessels (JHSVs) for the U.S. Navy. Five JHSVs have been delivered while an additional three are in various stages of construction.