Australian Frigate Deploys for the Middle East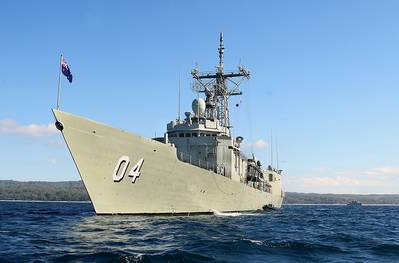 Commander Australian Fleet, Rear Admiral Stuart Mayer, CSC and Bar, RAN, spoke to the assembled crowd and noted that while most Australians were spending the festive season with their loved ones, Darwin was deploying on an important mission, conducting counter terrorism, counter piracy and narcotics interdiction operations on behalf of Australian people.
"Under the leadership of Commander Philip Henry, Darwin will work with multinational partners as part of Operation MANITOU to encourage regional cooperation and to promote a safe maritime environment in the Middle East and Horn of Africa regions," Rear Admiral Mayer said.
Darwin will operate as part of the multinational Combined Maritime Forces. This includes approximately three dozen ships from 30 nations patrolling more than 2.5 million square miles of international waters.
"I thank the officers and sailors onboard for their work preparing for this deployment, which will help ensure global maritime security and keep trade routes safe for legitimate mariners," Rear Admiral Mayer said.
Darwin's deployment is the 62nd rotation of a Royal Australian Navy ship to the Middle East region since 1990 and the seventh by Darwin itself. She will relieve sister-ship, HMAS Melbourne, on station who has already made four significant drug hauls during her rotation.