Australian Navy Given Lead Role in RIMPAC 2012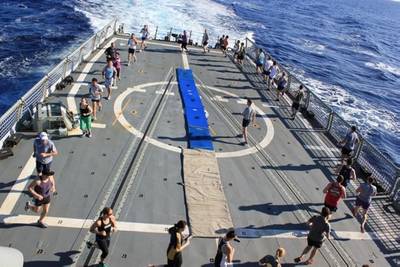 For the first time in the history of RIMPAC, Australia will lead the maritime component during the world's largest naval exercises
The Commander of the 1100 strong Australian contingent, Commodore Stuart Mayer says it's the first time the United States has provided another country with the opportunity to plan and execute the maritime aspect of this exercise.
The world's largest Maritime exercise has officially begun with elements of the Australian Navy, Army and Air Force joining the military forces of 21 other nations in Hawaii.

Exercise Rim of the Pacific (RIMPAC) 2012 has brought together 25,000 sailors, soldiers and airmen who will spend the next five weeks participating in a series of complex and realistic warlike scenarios.
"The opportunity to command the maritime force is a tribute to the trust in which the Australian Navy is held. It is also a great personal challenge," Commodore Mayer said. "Australia is coordinating an extraordinary number of assets including seven Combined Task Forces consisting of 40 surface ships and six submarines."
RIMPAC 12's primary mission is to enhance interoperability of the participating forces improving individual war fighting competencies, disaster relief and maritime security operations. This year's theme is "Capable, Adaptive, Partners".