Australian Warship Sails for Middle East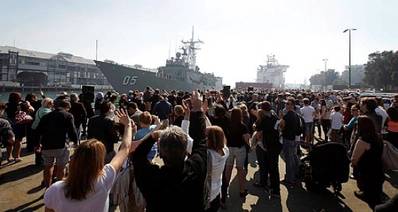 Family and friends joined dignitaries on the wharf at Garden Island, Sydney today to wave goodbye to 'HMAS Melbourne', as she departed for a tour of duty to the Middle East Area of Operations.
Commander Australian Fleet, Rear Admiral Tim Barrett, AM, CSC RAN and Minister for Defence Science and Personnel Warren Snowdon, bid the Royal Australian Navy Frigate a safe passage as she began a six-month deployment focussed on maritime security and interception operations as part of Operation Slipper, which is the Australian Defence Force's contribution to the international campaign against terrorism, counter smuggling and counter piracy in the Gulf of Aden, and enhancing regional maritime security.

Commanding Officer HMAS Melbourne, Commander Brian Schlegel, RAN says his ship's company of 234 are well prepared for the task ahead.
In other Middle East news:
British Royal Navy vessels are being readied to take part in a possible series of cruise missile strikes, alongside the United States, as military commanders finalise a list of potential targets, reports 'The Telegraph'.
Citing government sources, 'The Telegraph' reports that talks between the Prime Minister and international leaders, including Barack Obama, would continue, but that any military action that was agreed could begin within the next week.