Japanese Submarine to Join Australia's Navy in Military Drill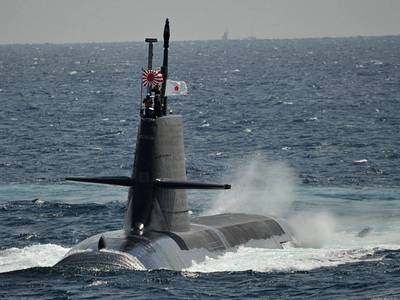 Soryu-class JS Hakuryu and two warfare destroyers will work with Australian ships near Jervis Bay as part of bilateral exercises, reports AAP.
The 4,000-ton Soryu-class stealth submarine JS Hakuryu, outfitted with a new lithium-ion battery propulsion system, will be joined by two JMSDF destroyers and two helicopters during the training exercise aimed to "foster collaboration" and "improve tactical skills," according to
Japan Maritime Self-Defense Force
(JMSDF).
All in all, around 430 JMSDF personnel will participate in the drill.
The Soryu class submarine will join forces from the Royal Australian Navy (RAN) and the Royal Australian Air Force (RAAF) in conducting a number of joint training exercises, a further effort to spruik the capabilities of the sub it is offering to the
Australian government
.
Dr Malcolm Davis from the Australian Strategic Policy Institute said it was a significant development in the three-way competition to build Australia's new submarine fleet.
"By sending a Soryu Class submarine down to work with our Navy, they're clearly very confident that the Soryu will impress and when you look at what they're doing — they're doing anti-submarine warfare exercises — they're doing tactical manoeuvring, communications, PHOTEX [photographic exercises] and so forth," Dr Davis told ABC's AM radio program.
The visit has been billed as Japan showcasing its submarine technology but a Defence source said on Friday it would have no impact on the ongoing competitive evaluation process to select a new sub design.
Davis told the ABC that both French and German officials would be watching the Japanese exercises "with a great deal of interest", as the
Australian submarine
contract is currently the most lucrative on offer.
He said the Soryu sub was a tried and tested model, whereas both European machines are prototypes only.
"It'll be interesting to see how the German and French bids respond to this because there is no (French submarine) in existence at the moment," Davis said.