Baltika's DP and Autopilot Pass Ice Trials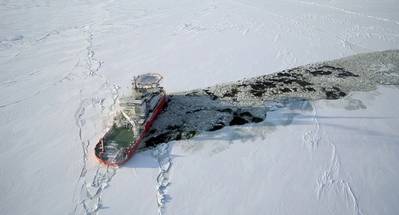 The dynamic positioning control system and autopilot onboard the icebreaking rescue and emergency vessel Baltika have been approved as meeting performance expectations, following a set of Arctic ice trials in the
Kara Sea
.
Developed by Finnish company Aker Arctic Technology, Baltika is the first ship ever built with an asymmetric hull that allows her to break ice not only ahead and astern, but also at an oblique angle. In this way, the icebreaker can open a channel in ice whose width is disproportionate to the vessel's relatively small size. The multifunctional vessel is equipped with Navis Engineering's Navis Nav DP4000 (dynamic positioning system) and the Navis AP4000 Heading control system (autopilot).
Navis Engineering and Aker Arctic have a scientific and technical cooperation agreement covering the joint development of technology for
dynamic positioning systems
for icebreakers and ice-class vessels.
Ice trials were conducted around the northern tip of Novaya Zemlya and across the Kara Sea to the
Gulf of Ob
, close to the Sabetta terminal area. The trials involved performance tests in two distinct ice thicknesses in ahead and astern directions as well as in the oblique mode. Various operational tests were also carried out in order to determine the maneuverability and operational capability of the vessel.
Although the ice conditions in the area were at the upper end of the vessel's designed icebreaking capability and the ice in the Gulf of Ob was considerably stronger than typical sea ice, Baltika exceeded performance expectations, with the set targets being surpassed a clear margin. The vessel broke 1.2-metre thickness level ice in continuous motion when proceeding bow first and achieved a speed exceeding 3 knots in the astern direction.
The 20.5 meters width vessel features an asymmetrical hull and an asymmetrical arrangement of its three azimuthing thrusters, enabling it to break ice and form a channel up to 50m wide in the oblique mode. The Navis Nav DP4000 is fully capable of dynamic positioning control during the oblique operational mode, in line with Baltika's distinctive icebreaking action. Feedback on the Navis Nav DP4000 has proved positive with crew acknowledging its operational simplicity and reliability after the trials.