Babcock Wins Newcastle Helicopter Marine Pilot Contract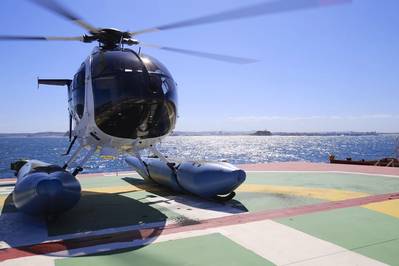 Babcock Australasia announced it has been awarded a further contract for helicopter marine pilot transfer services at the Newcastle Port, following a competitive tender process.
Under the contract, Babcock will provide aircraft, pilots, engineering personnel and maintenance staff to ensure the safe transportation of marine pilots to ships located 3 to 8 nautical miles offshore. This continues the services that Babcock has provided at the Port since 1999.
"This new contract reinforces our successful 19-year long relationship with the Port Authority of NSW that has been built on experience and trust," said Lauren Bagshaw-Flanagan, Managing Director of Aviation Onshore at Babcock.
Starting in April 2019, the new three-year agreement will continue to utilize Babcock's MD500E aircraft and includes the option of two additional one-year extensions.
Newcastle Harbour is a compulsory pilotage port. Pilot transfers at Newcastle are carried out by two methods, either by helicopter or by pilot cutter. In 2016/17, there were 2364 trade vessel visits to Newcastle Harbour and a total of 4706 pilotage movements performed – with approximately 80 percent of pilot transfers completed by helicopter.