Bath Iron Works Begins Building Next US Navy Destroyer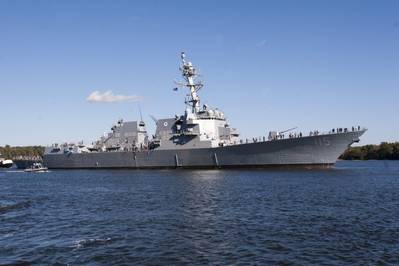 Shipbuilder Bath Iron Works (BIW) has officially started construction of the future USS Louis H. Wilson Jr. (DDG 126), the U.S. Navy announced. The new warship will be the first Arleigh Burke-class destroyer built in the Flight III configuration at BIW.
The milestone was marked by a ceremony on Tuesday at General Dynamics BIW's structural fabrication facility in Brunswick, Maine.
Flight III destroyers will have improved capability and capacity to perform Anti-Air Warfare and Ballistic Missile Defense in support of the Integrated Air and Missile Defense mission. This system delivers quick reaction time, high firepower, and increased electronic countermeasures capability for Anti-Air Warfare, the Navy said.
When operational, this multimission surface combatant will serve as an integral player in global maritime security, engaging in air, undersea, surface, strike and ballistic missile defense as well as providing increased capabilities in anti-submarine warfare, command and control and anti-surface warfare.
The ship will honor Marine Corps General Louis Hugh Wilson, Jr., who was awarded the Medal of Honor for his indomitable leadership and daring combat tactics in the Battle of Guam in 1944.
BIW is currently in production on the future Arleigh Burke class destroyers Daniel Inouye (DDG 118), Carl M. Levin (DDG 120), John Basilone (DDG 122), Harvey C. Barnum Jr. (DDG 124), and Patrick Gallagher (DDG 127), as well as the Zumwalt class destroyer Lyndon B. Johnson (DDG 1002).