Battery Powered Ferry Takes Shape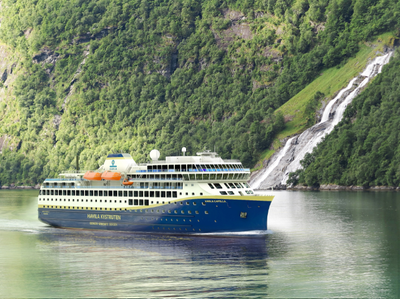 Corvus Energy signed a contract with Norwegian Electric Systems (NES) for the marine world's largest battery package to be installed on board Havila Kystruten's coastal vessels.
Corvus Energy will deliver an air-cooled ESS with Corvus' patented single-cell thermal isolation.
"The Energy Storage System has a capacity per vessel of 6,100 kWh, which is double the capacity of any existing battery-operated ferries," says Roger Rosvold, Vice President Sales at Corvus Energy.
The newbuilds -- each measuring 125 x 20 meters and able to accommodate 700 passengers -- are part of Havila's contract with Norwegian Ministry of Transport for the construction of four environmentally-friendly vessels that will operate on the Bergen-Kirkenes coastal route.
Two of the vessels will be built by Turkish shipbuilder Tersan, and two more by Spain's Barreras.
The vessels will have a hybrid gas-electric propulsion system with battery, where four gas-powered engines in each vessel run the generators. The system is also adapted to the next generation of technology, using hydrogen fuel cells. The equipment from Corvus Energy is scheduled for delivery in 2020 and the coastal route vessels will be in service from 2021.