BMT Nigel Gee to Design Battery-Powered Ferry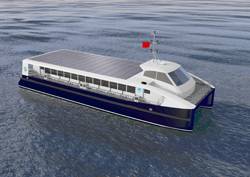 BMT Nigel Gee Ltd, a subsidiary of BMT Group Ltd, has won an order for the design of a 25m all electric, 150 passenger ferry in China.

In order to demonstrate the practical use of a battery-powered ferry within the estuarial and coastal waters, where marine transportation provides a viable alternative to land-based transport, a new green ship design will be developed. BMT has been tasked with providing the design based on the success of its low resistance hull form technology, which is currently in use in many low wash catamaran ferries.

In addition to providing the fundamental architectural design, BMT will develop the layout and styling of the vessel to provide a design that reflects the vessel's modern green credentials and practical functionality as a passenger ferry. The design uses a catamaran hull form with VRB batteries providing the power to the electric drive motors, which will achieve a 10 knot service speed. Solar cells are incorporated into the roof structure to top up the batteries whilst the vessel is in use.

Construction of the vessel will start by the middle of 2011 with trials and delivery by mid-2012.