Battleship 'Iowa' on Tow to New Home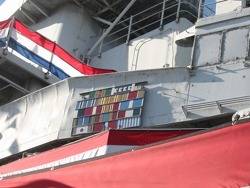 Iconic World War II-era battleship 'Iowa' is on tow from San Francisco to new home in Port of LA after bad weather delay
Surrounded by pleasure boats and other vessels, the 887-foot long, 58,000-ton battlewagon was towed through the bay and passed under the Golden Gate Bridge.
Crowds watched from both sides of the bridge as the U.S. Coast Guard Cutter Sockeye provided an official escort and the San Francisco fireboat Phoenix led the way.
At the St. Francis Yacht Club on San Francisco's shoreline, officers and crew members of the USS Decatur, outfitted in their dress whites, saluted as the Iowa drifted past, Rogers said.
Club members also honored the Iowa with a farewell gun salute and a signal flag message — "Farewell My Dear Friend."
"Everything has gone beautifully," said spokesman Bob Rogers of the Pacific Battleship Center, a nonprofit organization that will operate an interactive naval museum on board the USS Iowa at the Port of Los Angeles in San Pedro. "The Phoenix was spraying water in every direction. She took her right out the Gate."
The Iowa, first commissioned in 1943 and again in 1951 and 1984, saw duty in World War II and the Korean War.
The ship once carried Roosevelt to a summit with Winston Churchill, Joseph Stalin and Chiang Kai-shek. It also took part in escorting tankers in the Persian Gulf during the Iran-Iraq war before being decommissioned in 1990.
In recent years, the Iowa sat in the cold and fog, anchored with other mothballed ships in nearby Suisun Bay. Last year, the Pacific Battleship Center beat out the San Francisco Bay Area city of Vallejo when the Navy awarded the ship to the organization.