BHGI-designed ATB Unit Under Construction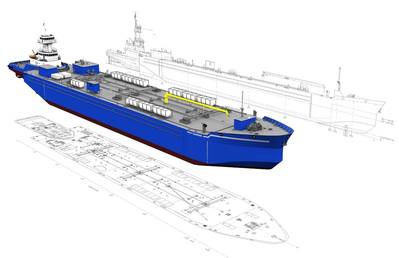 Bristol Harbor Group, Inc. (BHGI) informs it is currently completing the detail design phase of a 399' x 74' x 30' 80,000 BBL
double hull oil tank barge
and a 120' x 40' x 18'- 6" twin screw ocean service tug. Both vessels are currently being built under ABS survey at Conrad Shipyard, L.L.C. in Amelia, La. with a 2015/2016 delivery date.
The new ATB Gulf Venture and Gulf Carrier will be operated domestically and internationally by
John W. Stone
Oil Distributor to support the continually expanding shore bases as well as offshore operations. She will be capable of transit and delivery of various marine fuels and associated products.
Computational fluid dynamics (CFD) and finite element analysis (FEA) were used extensively in the design effort, BHGI noted. The purpose of the FEA study was to assess the stern scantlings of the barge in way of the INTERCON ladder interface. Similarly, FEA was performed on the tug structure to assess the maximum stress in way of the INTERCON load box. CFD analysis was performed to determine the calm water resistance of the combined unit and optimize the tug forebody and stern rake geometry of the barge.
Gulf Venture ATB Tug:
Dimensions: 120'x 40'x 18.5'
ATB Coupler System: INTERCON C Series
Main Engines: two CAT 3516C, 2,575 HP each
Main Generators: (3) John Deere 150kW
Classification: ABS +A1, +AMS, ABCU, Oceans Towing Vessel Unlimited Service certified under SOLAS/IMO/MARPOL
Gulf Carrier ATB Double Hull Oil Barge:
Dimensions: 399'x 74'x 30'
Capacity: 80,000 BBL
Bow Thruster: one Thrustmaster retractable azimuthing thruster, 750HP
Main Generators: two John Deere 99kW
Classification: ABS +A1, Unlimited Oceans, Permissively Manned