$2.8 Billion Contract Awarded for New Concrete Dry Dock at Pearl Harbor Naval Shipyard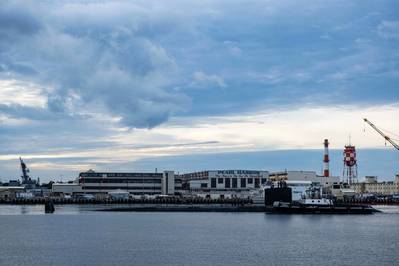 The U.S. Navy's engineering systems command has awarded a $2.8 billion contract for the construction of a new concrete dry dock at Pearl Harbor Naval Shipyard and Intermediate Maintenance Facility (PHNSY & IMF).
The $2,839,880,250 firm-fixed-price task order, which falls under a previously awarded multiple award construction contract, was awarded by Naval Facilities Engineering Systems Command (NAVFAC) Pacific to a joint venture between Dragados, Hawaiian Dredging and Orion. Four proposals were received for the task order.
The contract is part of the Shipyard Infrastructure Optimization Program (SIOP), a holistic plan that integrates all infrastructure and industrial plant equipment investments at the Navy's four public shipyards to meet nuclear fleet maintenance requirements.
The planned five-year project will construct a graving dock, to be designated Dry Dock 5, to support PHNSY's ability to continue serving the Navy decades into the future by maintaining and modernizing the U.S. Pacific Fleet's nuclear-powered submarines. Dry Dock 3 at PHNSY & IMF will become functionally obsolete once the Navy's Los Angeles-class submarines are no longer in service. The dry dock, built in 1942, cannot service Virginia-class submarines or larger surface ships.
"As part of the Navy's Shipyard Infrastructure Optimization Program, replacing Dry Dock 3 at Pearl Harbor Naval Shipyard is a critical enabler of increased naval capability," said Pete Lynch, program executive officer for Industrial Infrastructure, who oversees SIOP. "This project is a key investment in increasing capacity and modernizing our nation's public shipyards through upgraded dry docks and facilities, new equipment and improved workflow."
The contract is incrementally funded with $463 million being allocated at the time of award. Subsequent contractual increments will be funded yearly from fiscal 2024 through fiscal 2026 in the amounts of: $1.267 billion; $613 million; and $496,880,250. The contract also contains three unexercised options, which if exercised, would increase cumulative contract value to $3,417,092,900.
Capt. Steve Padhi, commanding officer of Officer in Charge of Construction (OICC) Pearl Harbor Naval Shipyard, said, "The project team and cooperating agencies have gone above and beyond to set the conditions for success. We have incorporated lessons learned and best practices from other dry dock projects and field offices across the Navy, and we have consulted with our construction contractors early in order to confidently meet the requirements we've been given."
In recent years, the Navy has been under pressure to address factors causing maintenance delays across its four public shipyards.
The Navy is investing heavily in shipyard infrastructure, and it established SIOP to increase throughput at the four public shipyards by updating their physical layout, upgrading and modernizing their dry docks, and replacing antiquated capital equipment with modern tools and technologies. According to the Navy, the SIOP investment plan, when fully executed, will deliver required dry dock repairs and upgrades to support current and planned future classes of nuclear-powered aircraft carriers and submarines, optimize workflow within the shipyards through significant changes to their physical layout, and recapitalize industrial plant equipment with modern technology that will substantially increase productivity and safety.