BMT's Pentamaran: Next-gen Hull for Autonomous Ops
Designed to meet challenges of long range autonomous ops, the 'Pentamaran' design has been optimized to reduce fuel consumption and increase flexibility
BMT recently released details of its next generation 'Pentamaran' platform for autonomous applications, vessels that can be custom configured for military, patrol, intelligence surveillance and reconnaissance (ISR), anti-submarine warfare (ASW) and hydrographic survey work.
The Pentamaran has been designed to reduce drag as much as possible and tests have proven it offers significant improvements compared to conventional hull forms such as mono-hulls, catamarans and trimaran.
The design features a narrow central hull and two further smaller hulls, on each side, for a total of five hulls. The two small hulls or sponsons are set one behind the other. The aim of this layout, according to Martin Bissuel, Business Sector Lead for Specialized Ship Design at BMT, is to minimize hull drag through the water as far as possible. Tests have established that the Pentamaran design significantly reduces drag in comparison to mono-hulls (conventional single hull designs), catamarans (twin hulls) and trimarans (triple hulls), Bissuel said. "In calm conditions, the forward small hulls or sponsons on each side are not submerged in the water, and therefore do not generate any drag. These forward sponsons serve to supply roll stability when waves develop," said Bissuel. "As a result, the Pentamaran has less hull volume permanently immersed in the sea than a trimaran would have, resulting in reduced resistance through the water. Also, the positioning of the outer hulls, length-wise, is absolutely key to obtaining the best results. Through extensive tank testing we have been able to optimize the overall arrangement of the hulls for the best possible results."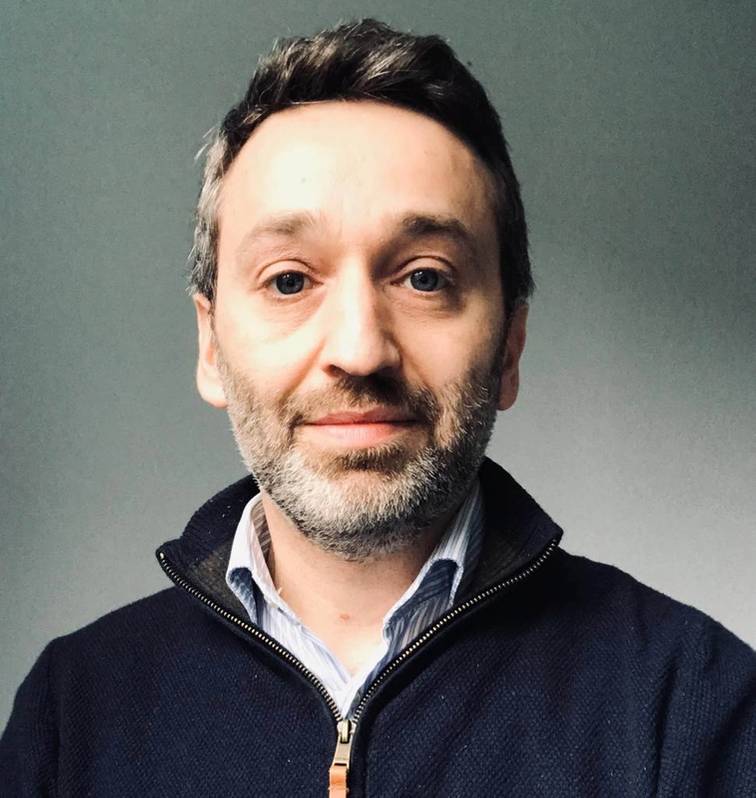 Martin Bissuel, BMT's business lead for the Pentamaran design."The arrangement and careful positioning of the four sponsons makes all the difference," said Bissuel. " Compared to a trimaran hull form, lateral accelerations are lower, reducing g-loadings on the structure as well as the antennae and sensors on deck. The wide deck offers a large working area for multi-role capabilities. It can accommodate payloads or interface with other systems such as unmanned air vehicles." A key consideration, when a vessel is operating autonomously for long periods of time, is the reliability of the propulsion setup which is essential to sustained operational readiness.
"When looking at autonomous operations, removing the human operator requirements into the design fundamentally changes the design philosophy that impacts not just the configuration of the power systems but also the entire below decks arrangement," said Bissuel. "The propulsion design could therefore move away from conventional setups. Multiple diesel-electric generators provide power for electric propulsors. The generators are positioned in different locations or compartments, thereby increasing survivability, but also resilience because if one of the generators has an issue, power can still be provided by the other units. Maintenance is made easier because of the smaller generators, but more importantly, operationally it provides what we describe as graceful degradation of performance if units should fail, but providing high confidence that the unit can be returned."
With variables in propulsion system and fuel, it's not possible to pinpoint duration, but Bissuel said that "When it comes to endurance the Pentamaran has been designed to push the boundaries. The profile varies depending on the customer requirements. We have run models when the 40m vessel will be able to do 40 days deployments, whilst 60 days can be achieved with the 62m version." The endurance, naturally, is directly connected to the operational speed.
The current designs go from 40m up to 80m, however the concept can be scaled up or down to suit particular requirements, said Bissuel. The Pentamaran lends itself very well to high speeds because of its characteristics, but also performs very well at medium and low speeds because of its low resistance in the water. "As for the hull construction, we have used aluminium to keep the weight down and therefore increase efficiencies, in line with the overall concept. For the smaller units, composites could also be considered."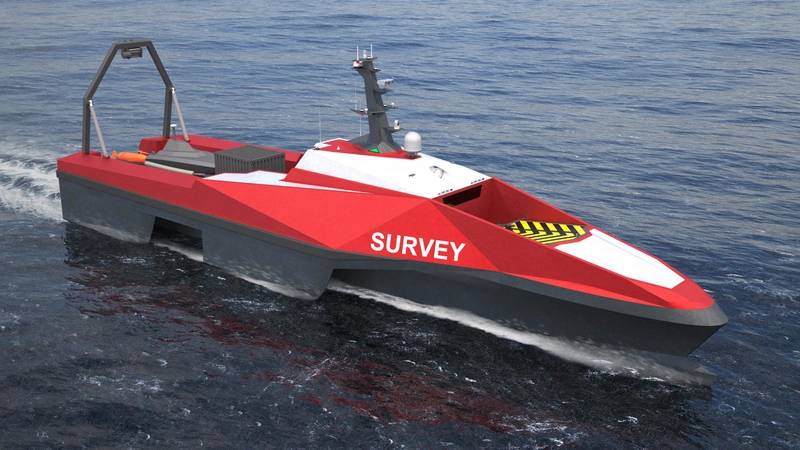 Image: BMT
Putting the Pentamaran to Work
According to Bissuel, there is a very wide range of missions the Pentamaran could be used for because of the different types of payloads, sensors, and effectors it can carry. Alongside applications such as patrol and hydrographic missions, it is designed for the latest military applications. Long endurance, deep water, intelligence, surveillance, and reconnaissance (ISR) and enduring communications node are both well suited to this platform which can remain on station, be discreet and have a low human cost if lost. It can also provide the ability to facilitate distributed physical effectors networks. Here are some potential applications:
Support continuous at sea deterrent
Deployable early warning systems
Support sea-lane clearance by using offboard vehicles
Coastal defence
Advanced force protection
Transfer of equipment from ship to land/land to ship
Collect and process passive/active EM spectrum ISTAR data
Launch/recover unmanned air vehicles
The Pentamaran is designed to be a modular platform so that it can carry a range of payloads. The aft deck is very wide and provides a large amount of space. It can be a landing platform for unmanned air vehicles, a launch and recovery area for unmanned surface and underwater vehicles, but also carry containerized payloads for sensor systems. The mast is substantial enough so that multiple sensors can be fitted, not only for the vessel's own autonomous navigation needs, but also C4ISR payloads.
"We have a proven track record of achieving complex systems integration," said Bissuel. "The Seafighter vessel we designed for the Office of Naval Research in the USA is a good example for that, as it features a novel platform concept as well as a range of innovative systems."