BOAM Charity Calls on LIBOR Chancellor for Funding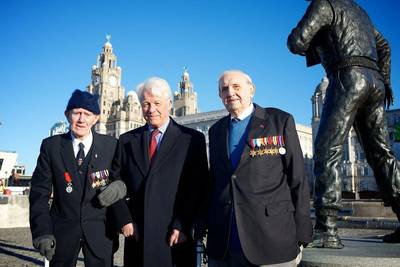 The charity behind a campaign to build a Battle of the Atlantic memorial on Liverpool's waterfront has urged the government to support the project with money from the LIBOR bank fines fund.
The Battle of the Atlantic Memorial (BOAM) campaign began fundraising in January. It hopes to secure $2.9millon to create a monument on Liverpool's Pier Head, dedicated to the estimated 100,000 people who lost their lives during the World War Two battle, as well as those who served and survived.
BOAM chairman Vice-Admiral Mike Gretton has written to Chancellor of the Exchequer Philip Hammond, asking for the support of the LIBOR Charity Funding scheme. Established in 2012, the fund has handed out $897mil to armed forces and emergency services charities, including $23.2mil for a memorial honoring those who gave their lives in both the D-Day landings and the Normandy Campaign.
In his letter to the Chancellor, Vice-Admiral Gretton said: "The planned D-Day Memorial has received $23.3mil from the LIBOR bank fines fund to help pay for its construction. While the D-Day Memorial is very deserving, there is another World War Two memorial, the Battle of the Atlantic, being planned at a considerably lower cost of around £2.5million.
"You will be aware of the colossal loss of life in the Battle of the Atlantic of more than 100,000. The battle was the longest of World War Two, beginning on September 3, 1939 until VE Day on May 8, 1945. Without the efforts of thousands from Britain and our allies during the Battle of the Atlantic we would not have been able to fight or feed ourselves, and there would have been no D-Day.
SO far, BOAM has raised around $110,000 and received full support from the First Sea Lord. It is working with the Royal Navy and the Merchant Navy, and has the backing of many international bodies, including US-based organizations American Merchant Marine Veterans and Project Liberty Ship.
Plans for a memorial have the support of Sir Kim Darroch, Britain's ambassador to the United States. With his help, BOAM supporters are set to travel to America in October for a tour of the British Embassy and consulates in New York, Chicago and Boston, to raise awareness for the campaign.