Bollinger Delivers USCG Joseph Gerczak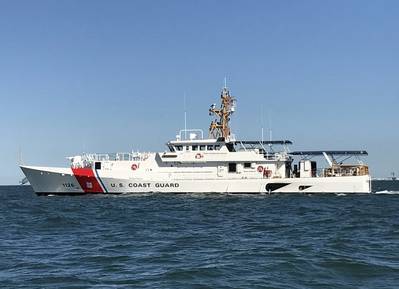 Bollinger Shipyards has delivered the USCGC Joseph Gerczak, the 26th Fast Response Cutter (FRC) to the U.S. Coast Guard. The Coast Guard took delivery on the 9th of November 2017 in Key West, Florida. The vessel's commissioning is scheduled for March 9, 2018 in Honolulu, HI.
Ben Bordelon, Bollinger President & C.E.O. said: "This FRC built by
Bollinger Shipyards will
be the second FRC to be stationed in Honolulu, Hawaii. Previous cutters have been stationed in Florida, San Juan, PR, Cape May, NJ, Ketchikan,
Alaska
, and Pascagoula, MS. FRCs already in commission have seized multiple tons of narcotics, interdicted thousands of illegal aliens and saved many lives. The FRC program is a model program for government acquisition and has surpassed all historical quality benchmarks for vessels of this type and complexity. The results are the delivery of truly extraordinary Coast Guard cutters that will serve our Nation for decades to come. We are extremely proud that the Fast Response Cutters built by Louisiana craftsmen here at Bollinger Shipyards are having such a major impact on our country's safety and security."

The 154 foot patrol craft USCGC Joseph Gerczak is the 26th vessel in the Coast Guard's Sentinel-class FRC program. The FRC has been described as an operational "game changer," by senior Coast Guard officials. To build the FRC, Bollinger used a proven, in-service parent craft design based on the Damen Stan Patrol Boat 4708. It has a flank speed of 28 knots, state of the art command, control, communications and computer technology, and a stern launch system for the vessel's 26 foot cutter boat.