Bouchard Barge Gets Major Overhaul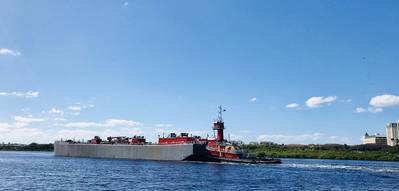 Bouchard Transportation Co., Inc. announced Friday that one of its barges has ended its shipyard period after completing a major overhaul.The work was performed at Gulf Marine Repair in Tampa, Fl. She left the shipyard earlier this week.
Bouchard Barge No. 295 (B. No. 295) left Gulf Marine Repair in Tampa, Fla. earlier this week following an extensive scope of repair and upgrade work, a Bouchard spokesperson told MarineLink.
Approximately 90 percent of the the barge's main deck plate has been replaced, freshly painted and triple-coated, and new internal coatings have been applied, along with the installation of new anodes on the hull and in the ballast tanks, the New York-based shipping company said.
The barge's cargo pumps, ballast pumps and thermal oil cargo heating system have been entirely overhauled, and the hose-handling cranes have been rebuilt, Bouchard said. Deck and navigation lighting, and electrical cabling have also been renewed.
The 2006-built B. No. 295 has been equipped with all new hoses, lines, emergency response equipment and a new gas detection system in the void spaces which provides early detection capability. A new anchor chain has also been installed, with an overhauled winch.
Bouchard's president & CEO Morton S. Bouchard III said safety was the driving force behind overhaul.
"The B. No. 295 has been updated with state-of-the-art technologies and equipment in order to provide the safest work environment for our crew and the most efficient service for our customers," he said. "We are committed to ensuring that our fleet is always operating above industry standards and regulations, and we will continue to work toward updating and maintaining every vessel in our fleet accordingly."
"Our Safety First philosophy remains at the forefront of our operation, and continues to be reinforced as we invest our profits into optimally enhancing and modernizing our fleet," the Bouchard CEO said.
B. No. 295 measures 468 feet by 85.6 feet by 38 feet, has a 158,000 barrel capacity, and is used as part of an articulated tug barge (ATB) to transport black oil throughout the Jones Act market. The barge is paired with the tug M/V Bouchard Girls and is fit for immediate service.