Sener's FORAN Scores in Boxship Design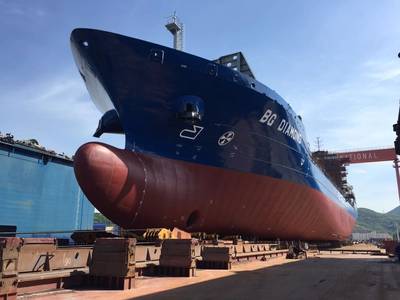 SENER said that two container ships designed by the Chinese company CIMC ORIC – that are part of a series designed with SENER's FORAN System – are in operation. BG Diamond and BG Jade that have been launched and are operating in the Pacific Ocean.
The vessels were built in Chinese Changhong International Shipyard. The floating ceremony of the first one, BG Diamond, took place in July 2017. The series include 4+4 vessels in total, so there are still six vessels under construction.
FORAN system was implemented in this design company in December 2015. FORAN was used for whole design stages for this series of vessels, and modules of all disciplines of FORAN System have been used in the design. CIMC ORIC manage manager comments that the project was benefited from using the FORAN System throughout all the design process.
BG Diamond Main Particulars
Length: 153m
Breadth: 24.5m
Depth: 11.8m
Design Draught: 7.6
Tonnage: 13,250 tons
Speed: 18 knots
Class: DNV-GL: +100 A5, CONTAINER SHIP, DG, IW, BWM (D2), LC, RSCS