UASC Orders 10 Boxships from Hyundai Heavy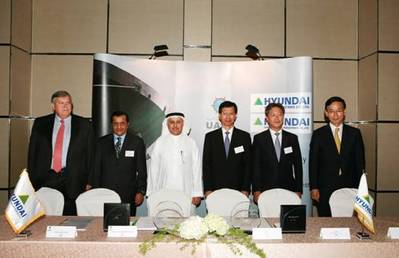 Hyundai Heavy Industries (HHI) announced that it won a $1.4 billion order to build five 18,000 TEU class and five 14,000 TEU class containerships from the United Arab Shipping Company (UASC) on August 29.
The 18,000 TEU class boxships and 14,000 TEU class boxships are scheduled to be delivered from late 2014 and the first half of 2015 respectively. The contract also includes options exercisable by UASC to order an additional 18,000 TEU class containership and six additional 14,000 TEU class boxships.
The ships Hyundai Heavy will deliver to UASC will use an electronically-controlled main engine to maximize fuel efficiency, and reduce noise, vibrations, and carbon emissions by automatically controlling fuel consumption to suit sailing speed and sea conditions.
Hyundai Heavy's rich experiences of building 550 quality containerships over the past years and its capacity to deliver the massive volume of ships in the short period in cooperation with its shipbuilding affiliate
Hyundai Samho Heavy Industries played
a key role in winning the order for the ten containerships.
english.hhi.co.kr