Breakbulk Africa Congress – Transnet CEO to Speak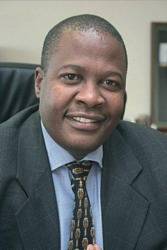 Brian Molefe, CEO of Transnet, South Africa's intermodal & pipeline conglomerate, will deliver the keynote address at forthcoming African debut of the Breakbulk Africa Congress
Transnet SOC is South Africa's national transport arm and the governing body for the country's rail, pipelines, ports and terminals. During his keynote address, Molefe will discuss Transnet's recently announced, four-point growth strategy, which includes plans to invest R110.6 billion (US$12.9 billion) in new rail equipment, the widening and deepening of ports and building a new pipeline to solve South Africa's infrastructure challenges.
Molefe is a South African businessman who has also worked in the office of the premier in the Limpopo, where he was responsible for strategic planning. Transnet's integrated freight transport company is comprised of five operating divisions: Transnet Freight Rail, Transnet Rail Engineering, Transnet National Ports Authority, Transnet Port Terminals and Transnet Pipelines. These divisions are supported by a number of company-wide specialist functions, such as Transnet Projects, that underpin the group as a whole.
Breakbulk Africa is among a portfolio of shows organized by UBM Global Trade's Breakbulk division. Among those, Breakbulk produces a trio of major conferences and exhibitions -- Breakbulk Europe, Breakbulk Americas and Breakbulk China -- each year.