Breauxs Bay Delivers Miss Lauren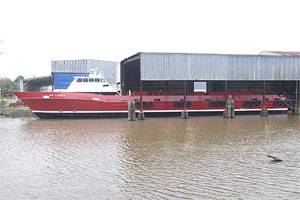 Early this February, Breauxs Bay Craft will deliver their largest crew boat to date to Gulf Offshore Logistics. It is the third in a three boat series for GOL.
The red-hulled Miss Lauren is a 180 ft DP2-equipped crew boat. She is powered by four Cummins KTA50 mains each delivering 1800 hp at 1900 RPM to Twin Disc MG6848 gears with 2.93:1 ratios. Two of the four Nibral 54x54-inch propellers are mounted on 24 ft by five-inch Aquamet shafts while the other two are on 28 ft shafts reflecting the positioning of the four engines.
A pair of Cummins 6CTA8.3(D)M engines provide auxiliary power for the hydraulic cargo pump and the two tunnel bow thrusters. Accommodation for up to 12 crewmembers includes bunkrooms and a fully equipped galley in the forward hull. Seating for 82 passengers is in the main deck cabin where three plasma screen TV screens provide entertainment. With a deck cargo capacity of 315 long tons, the vessel is fully classed by ABS.
Although his yard has other vessels in build, Roy Breaux, Jr., commenting on the current economic uncertainty, says, At present we dont know what the future holds, but we are ready for whatever changes the offshore oilfield may present.