British Shipyard Evacuated After Bomb Threat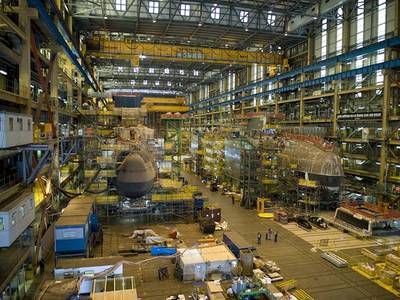 A shipyard in northern England that builds Britain's new generation of nuclear submarines was evacuated on Wednesday after what a local news website said was a bomb warning.
Ambulances and police were on the scene in Barrow-in-Furness in northwestern England. The defense ministry declined to comment.
"As a precaution, the Devonshire Dock Complex has been closed," a spokeswoman for BAE Systems said. "Staff, contractors and local residents are being kept informed."
An unidentified source told The Mail, a Barrow-in-Furness-based publication known previously as the North-West Evening Mail, that staff had been evacuated after a warning about a bomb on an Astute-class nuclear attack submarine.
Barrow-in-Furness makes the new generation of four Dreadnought-class ballistic missile submarines that will eventually replace the Vanguard class which form the basis of the United Kingdom's Trident nuclear deterrent.
Dreadnought-class submarines will measure 153 metres long, with a displacement of 17,200 tonnes, and have a PWR3 nuclear reactor.
BAE Systems, Rolls Royce and Babcock are the main industrial partners in the 31-billion pound ($41 billion) Dreadnought project.
(Reporting by Guy Faulconbridge, Kate Holton and Paul Sandle; editing by Stephen Addison)