Alaskan Tugboat Sale Brokered by Marcon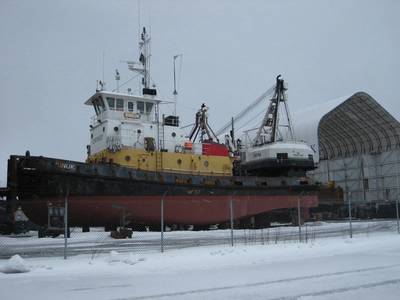 Delaware's Vessel Management Services, Inc. has sold their twin-screw tug "Sinuk" to King River LLC of Palmer, Alaska.
The 85.8' x 28.5' x 10.0' depth, model bow tug was built in 1995 by J. Ray McDermott Shipyard in Morgan City, Louisiana. The tug, along with her sister "Siku", were designed for coastwise towing and lightering of deck cargo / petroleum barges supplying the numerous remote sites and villages in southwestern and western Alaska.
"Sinuk" is powered by a pair of CAT 3412DITA diesels totaling 1,248BHP, turning 5-blade stainless steel props through Twin Disc MG540 6.18:1 marine reduction gears. Her stern configuration shrouds both propellers in tunnels, allowing the tug to work at a shallow draft of about 5.5' light and 8.25' loaded. Bollard pull for the class is about 25,000lbs. ahead and 18,720lbs. astern.

The tugboat's towing gear consists of a Markey TYS-24 single drum winch with a pendant drum, plus push knees forward. Ship's power is supplied by a pair of 105kW generators driven by CAT 3304s. Tankage includes about 40,000g. fuel, 700g lube oil and 2,800g fresh water.

The 117GRT tug is classed ABS +A1, Unrestricted Service, +AMS and carries an ABS International Load Line.

"Sinuk" was laid up for the winter in Bethel, Alaska out of the water at the time of purchase. New Owners have renamed the vessel "Ari Cruz".