Five Weeks Later, Maersk Honam is Still Burning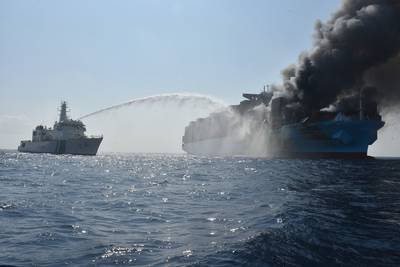 Efforts to suppress a fire on containership Maersk Honam continue more than a month after a blaze aboard the 15,000 TEU vessel killed five crew members.

On March 6, a fire broke out in a cargo hold aboard Singapore-flagged Maersk Honam while the vessel was en route from Singapore toward Suez, about 900 nautical miles southeast of Salalah, Oman.

At the time of the incident, the ship was carrying 7,860 containers for the 2M Alliance between Maersk Line and Mediterranean Shipping Co. (MSC).

On Friday, more than five weeks after the fire started, MSC said various hotspots remain aboard Maersk Honam, and firefighting and cooling operations are ongoing.

The fire-stricken vessel is being towed to anchor at Jebel Ali, U.A.E., where cargo will be offloaded. It is currently halfway between Muscat and Karachi, in the northern Arabian Sea, MSC said.

"We will only be able to clarify the situation once the cargo has been discharged and inspected, but we can now provide to the owners of cargoes that were stored in the holds 1 to 3 some certificate of total loss if requested," MSC said. "For the other cargoes, insurers should prepare the required GA and Salvage security bonds . . . as those documents will be essential for the cargoes to reach their final destinations and be released under General Average."

"As the salvage operations are still ongoing, the General Adjuster is not yet in position to finalize his request for Salvage security bonds," MSC added.