BV: Phase 2 of My Fuel Consumption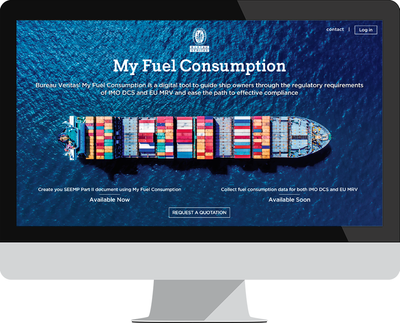 Bureau Veritas released 'Phase 2' of My Fuel Consumption (MFC), the online tool to facilitate compliance with fuel consumption regulations – both IMO's data collection system (DCS) and the EU's monitoring, reporting and verification (MRV) requirements.
Available to the owners and managers of both Bureau Veritas and non-Bureau Veritas classed ships, My Fuel Consumption is a secure cloud based web application available on desktop, mobile and tablet. Free of charge it is available on VeriStar, the Bureau Veritas client portal. All that is required is a contract for IMO DCS or MRV services provided by Bureau Veritas.
Phase 1 of MFC released in April 2018 enabled the preparation of IMO DCS Plans (SEEMP Part II) for submission to Bureau Veritas for review. The new phase now enables:
• Reporting of fuel consumption for IMO DCS requirements
• Reporting of CO2 emissions for EU-MRV requirements
Using smart calculation engines, MFC ensures that vessel fuel consumption data is automatically registered for the different schemes.
The benefit to shipowners and managers is facilitated compliance with both the IMO and EU schemes, including voyage based activities and "at berth" activities for EU-MRV regulations as well as periodic activities under the IMO DCS scheme. Automatic calculations based on entered data inputs create reports in the required formats for each reporting scheme – including aggregated and disaggregated reports for IMO DCS and customized reports to reflect a change of manager or a change of flag.
The IMO-DCS reports are submitted to Bureau Veritas for review and provision of a statement of compliance. The EU-MRV reports can be generated by My Fuel Consumption and then can be sent directly to the EU's Thetis database by the owner or manager.